Directions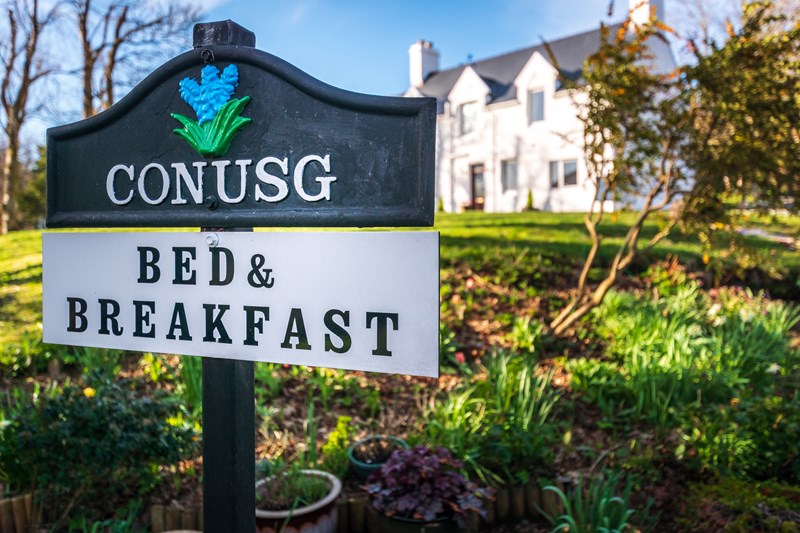 CONUSG BED AND BREAKFAST
Coolin Hills Gardens, Portree, Isle of Skye, IV51 9NB
How to Find Us:
Our Postcode for your Sat-Nav is IV51 9NB. Mind it does not send you to Mallaig instead of over the Skye Bridge - unless you WANT to come over by Ferry: if you do, please contact Cal Mac Ferries for more information.
As you reach Portree from the south on the A87 (30 mph Limit) stay straight ahead, ignoring signs for Dunvegan, Town Centre and Car Parks.
Follow the A855 marked "STAFFIN" as it winds its' way past shops, hotels and cafes. (20 mph Limit) and rises uphill above the Harbour (Co-Op store on your left, Chippie on your Right). Keep going past the Bosville Hotel and all the B + Bs on your Left – the sea is on your Right. A short way along, at the end of Bosville Terrace, you will go round a sharp left-hand bend. Just ahead you will see a large sign for the Cuillin Hills Hotel, pointing to your Right. Drop down that road - take care, it is narrow in places.
Keep dropping down, PAST THE BIG BROWN (DEFRA) WOODEN BUILDING - down a little more - you will then drive over a narrow bridge with metal railings. The shore is directly beside you on your right. A few metres further along, the road splits in two. Change down a gear to take the sharp, steep left turn (Signed "Hotel Coaches and Deliveries") and up you go!
Keep going up: you will pass the CAR PARK / EXIT area of the Cuillin Hills Hotel on your RIGHT, and PASS the entrance marked "Coolin Hills Gardens" on your left. ** WE ARE NOT IN THERE! LOOK UP AHEAD! **
In front of you to your left is the CONUSG – with a large sign on the grass in front of the house. There is plenty of room to park up at the side of the house. You've made it – well done!